"Yes, yes I think that will do." Those were my first thoughts on seeing this very nice view from our hotel balcony in Huntington Beach, aka 'Surf City', on our trip there during Spring Break. Palm trees, orange rooftops, a deep blue ocean, blue sky with a bit of fog, very sandy sand, big waves and even the view of Highway 1, which (along with Highway 101) runs along the whole Pacific coast of America (as the 'Pacific Coast Highway'). Yeah, I can't really go wrong with a view like that. My wife certainly knows how to pick the hotels with the good views. We had expected rain – in northern California, huge whopping storms were beating down while I splashed about in the pool, getting out to read my travel stories book and sip a refreshing mango beer. Yes, mango beer, that's right, it was from a local brewer, the poolside barstaff told me. I like mango flavoured things. Oh is it raining in Davis? Well never mind. We had glorious sunshine, and we used it wisely, at the beach and at the pool. It's at times like this when I think, yeah, actually it was a good idea to leave London and live in California.


I did a little bit of sketching. The building above is Naugles, some sort of eatery by the beach. It wasn't open, though the building next door was renting those surreys and bikes to people. I think I imagined Spring Break to be a bit more Spring Break-like, if you know what I mean, Florida style, but warm as it was, it's still too cold in California for that sort of thing. For which I was very grateful, I do love places without big crowds. I even went into the ocean myself (which was fairly freezing), my son and his friend out there splashing about in the waves. I can't surf, but we had one of those boogy-boards and so I floated about on that, on my belly, riding the waves like a dead whale. I'm not sure if dead whales ride the waves, but 'dead whale' was the only thing that came to my mind when the tides flopped me back onto the shore. I was a dead whale enjoying myself though. We even built sandcastles and dug tunnels. These sketches though were done while they were back at the hotel pool, which was heated and had water slides. Below is one of the many lifeguard lookouts that stand along the beach like the watchers on the wall. At this point it's obligatory to mention 'Baywatch', but I never watched that show, so I wont. The beach was clean, and well trimmed like a suburban lawn. There are firepits for people to use when barbecuing in the warm summer evenings (like in pretty much every teen LA-based movie or TV show), but there's a curfew on this beach, nobody is allowed after 10pm. In the distance, Huntington Beach pier, and further behind still are off-shore oil rigs, which maybe adjust the perfection of the view a bit (but offer something a bit different to look at). The waves get pretty big; you can see a surfer making their way in. Huntington Beach is nicknamed Surf City: there is a statue of Duke Kahanamoku, legendary Hawaiian surfer and olympic sportsman, standing outside one of the big surf shops downtown. I popped in, and discovered that surfboards cost a lot more than I though they did. There goes that dream!


Speaking of 'The Duke', we had a very filling and quite delicious dinner at Duke's restaurant, on the beach next to the pier. We went to the Duke's restaurant in Waikiki a couple of years ago, and had our very first Lava Flow drinks. They were delicious. The ones we had here were just as nice, but served in those great tiki glasses. I only had the one – they are pretty filling! So are the enormous Hula Pies. We got one to share between the four of us, and I'm glad – we barely finished it. I bought a Hula Pie plate as a souvenir. I did get to tell a great pun when the waiter was giving us the list of specials. My wife wondered if she should have the fish special, and I said, "why not, just for the halibut!" The waiter didn't get it though. I thought it was good. One of the fish specials was halibut. Now I have to engineer some other situation where I can use the "just for the halibut" line.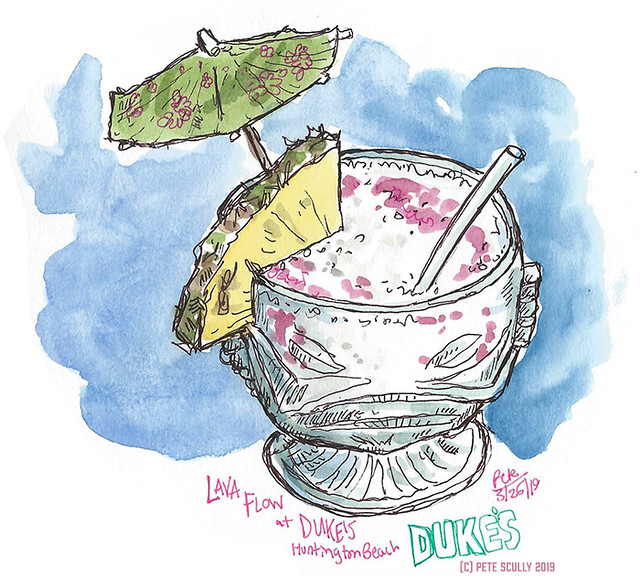 It was a long walk back to the hotel, but since I had eaten so much I was rolled along the seafront like one of those massive snowballs. I was still basking in the glory of my "just for the halibut" line. It was not yet ten o'clock, so the beach was dotted with the glow of numerous firepits. In the parking lots, travelers were sat outside immense RVs enjoying the spring evening's cool ocean breeze.

On the second evening in Huntington Beach, after an incredibly fresh tasting dinner at a place called Lemonade (which as you might expect made delicious multi-flavoured hand-made lemonades – I had 'Cucumber Mint'. So refreshing. Everyone was tired, and so the rest of the family went back to the hotel, but I still wanted to walk to the end of that long pier, so I talked my sore feet into making the trek up over the boardwalk into the Pacific Ocean. There are lots of people fishing from that pier. It's not full of amusements like Santa Monica or Walton-on-the-Naze, but right at the very end in the red-roofed building is one of my favourite places in California, Ruby's Diner. I have a lot of favourite places in California, I can't really choose; ok this is in the top 100. It's a classic American diner at the end of a pier, there's a great classic American atmosphere, and when I say classic American I mean 'like in the movies', probably. It doesn't feel themed or kitschy though. There is a tiki bar upstairs, which I passed through to use the bathrooms, that was a distinctive change of look. All I wanted was a milkshake. A bit of history here, the very first time I came to the United States was in 2002, to visit my still-new Californian girlfriend whom I had met while living in France, and she took me on a road trip down California and to the Grand Canyon. Oh by the way my then-new Californian girlfriend is now my Californian wife of course! Back then though America was completely new to me, I was a fresh-faced twenty-something, and on this road trip we visited our friend Erin (whom we had met in France; actually it was Erin who introduced us to each other) and she lived in Huntington Beach. She took us to Ruby's Diner at the end of the pier, and I had what up to that point in my life was perhaps the best milkshake I had ever tasted. It was a butterfinger milkshake, it was huge, it made every milkshake I grew up with seem like Nesquik. By the way every milkshake I ever grew up with was Nesquik. I'll never forget the taste of Nesquik gone BAD. Never leave banana Nesquik in a flask out of the fridge for a couple of days in summer and then try to drink it. I was six. Anyway, all I had on my mind was coming back to Ruby's and having a milkshake, and I was not disappointed. They had the same menu of shakes, but they were also doing a special Mint Chocolate shake made with Girl Scout Cookies. It was delicious. The long walk down the pier and the long walk back to the hotel were good exercise, and I'm now still dieting to get over all the big foods I had on that trip, but it was worth it. Huntington Beach is cool. And below, for those who really need a gumball, they have them in a gas pump. Classic American.

Ok after Huntington Beach we went to Great Wolf Lodge for one night, which had some fun water slides but overall was a bit of a disappointment after Huntington Beach, and so we ended up going to see Captain Marvel instead (loved it!). We got back to Davis to hear that there had been even more heavy rain (this is the rainiest I've ever known Davis, except maybe that first winter here).